Owning a hearing aid means keeping it in full working order at all times. When the batteries die, components wear out or your fitting changes, it's important to visit the professionals at R X Hearing Aid Service for service. We'll make sure your hearing aid is always comfortable and functional, so you can enjoy a high quality of life.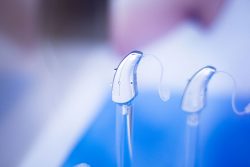 Our hearing aid repair service in Lancaster, PA encompasses any and all concerns you may have about your device. We proudly offer the following services:
Hearing Aids: Our selection of new hearing aids is expansive and includes something for everyone. We specialize in digital hearing aids in Lancaster, PA, with a wide range of top-name brands in stock. We'll help fill a prescription you have or explore the many options available to you if you're suffering from a particular type of hearing loss.
Hearing Aid Fitting: Fitting your hearing aid is critical to the unit's effectiveness and your comfort. We'll fit your hearing aid perfectly so you can enjoy wearing it comfortably at all times. And, if you already have a hearing aid that doesn't fit quite right, we can help adjust it to a better fit.
Hearing Aid Repairs: Lots of things can go wrong with a hearing aid over time. We provide a full range of repair services to ensure yours is always working. This includes battery replacements, wax removal, component replacements and more.
If you have any specific questions about your hearing aid or need services for a unit, don't hesitate to visit us!
Free Hearing Services
Because we're concerned about your quality of your hearing, we provide a number of services at no cost to our customers. Come to us for free hearing testing, free hearing aid batteries for life and a zero charge for checkups. It's just another way we dedicate ourselves to the overall health and wellness of our customers.
For more information about our products and capabilities, please contact us today by calling 717-397-2046 or stop by and speak with us in person.